This short article will share my tech toolkit and give a high-level overview of how I manage academic reading materials, notes and references.
Tech Toolkit
I use:
I also use Microsoft Word for writing assignments - this is not by choice; the university requires it.
Zotero
Zotero is a free tool that helps you collect, organise, annotate, highlight and cite research papers. There is also a Zotero app, which suits my workflow well, as I tend to read, highlight and annotate papers on my iPad using my Apple Pencil.
Here's a screenshot of my Zotero library to give you a sense of the layout: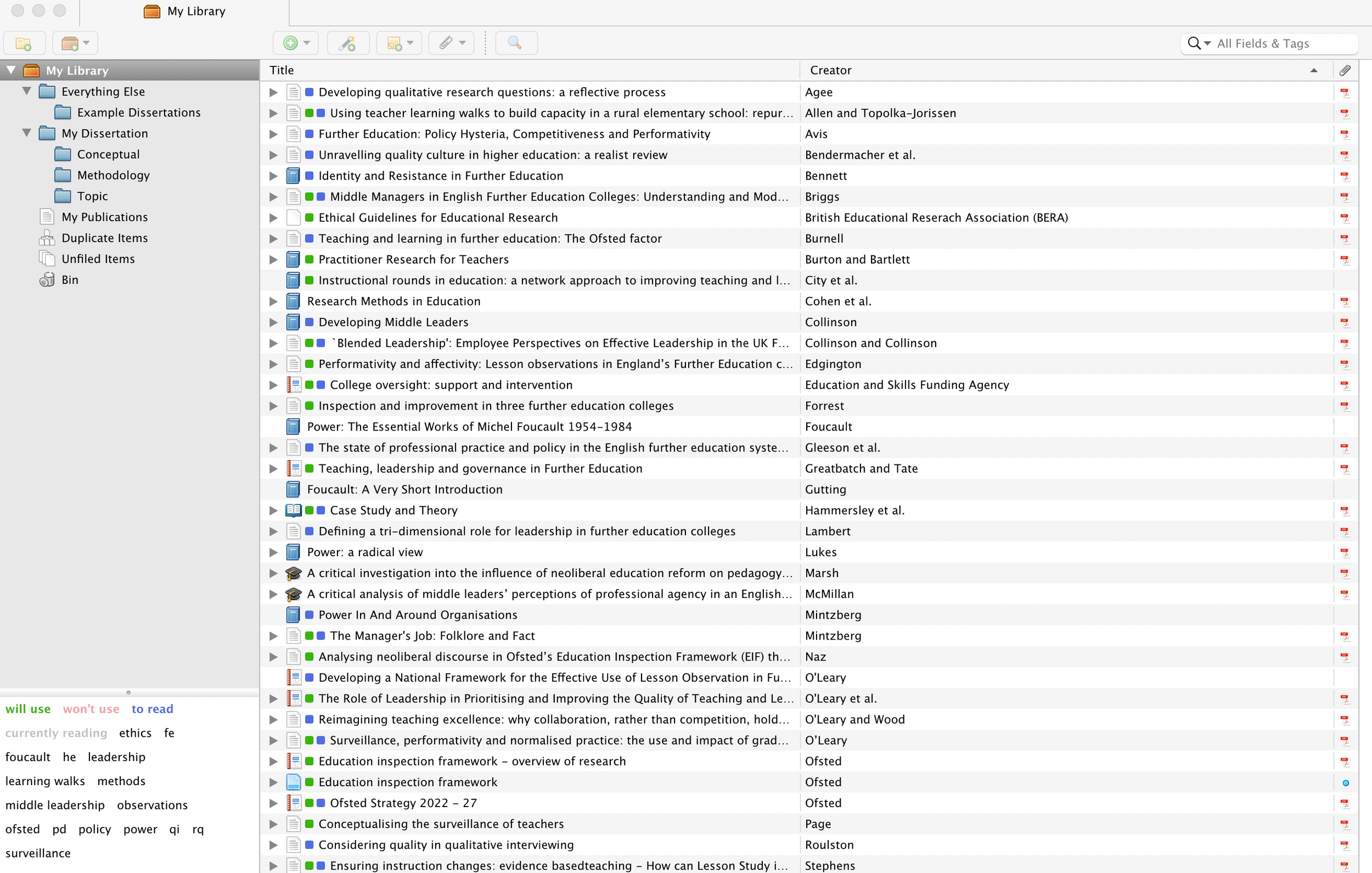 Here's a zoomed-in screenshot of my simple folder structure and tagging system:
If you only need a tool for generating bibliographies, I recommend ZoteroBib.
Obsidian
I use Obsidian for taking notes. Below you will see two screenshots of my Obsidian sidebar showing my folder structure.
This screenshot shows my master's 'project' sub-folder, which contains an outline for my dissertation along with any other notes that are not linked to one specific research paper:
These screenshots show the location of notes I have made on research papers (they are in a Zotero-specific 'Capture' sub-folder that splits into different types of literature e.g. conceptual, topic etc.):
Notes related to specific research papers are created using the Obsidian Citations community plugin. The video below explains how I set up this clever Zotero/Obsidian integration:
Here is the template I use (note that I will likely move the metadata into YAML in the future):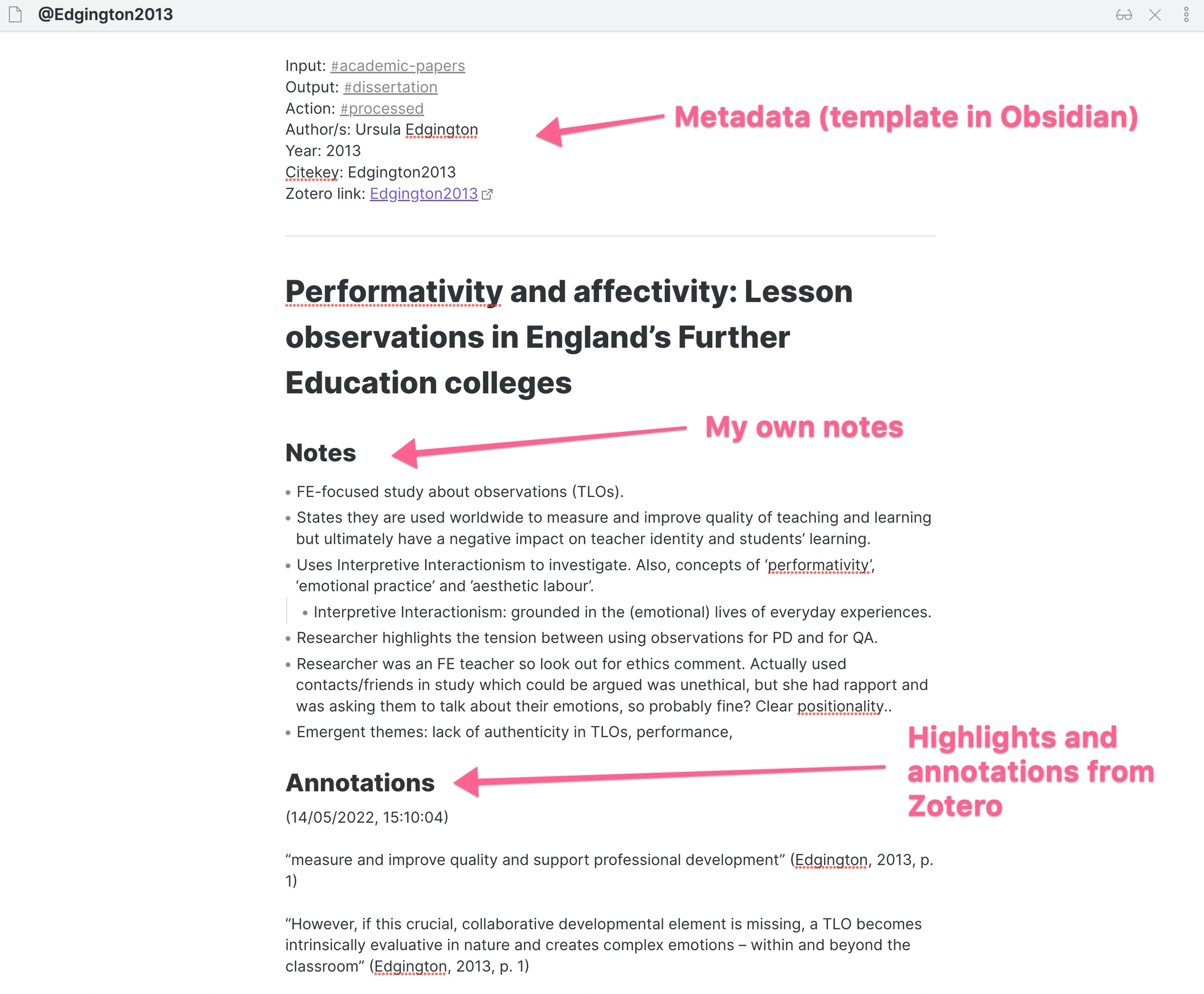 Workflow
This is how I process a paper:
Bring the paper into Zotero.
Tag the paper in Zotero (e.g. currently reading plus topic tags).
Create a template-based literature note in Obsidian and place it in the relevant subfolder (e.g. conceptual literature).
Read, highlight and annotate the paper in Zotero, updating the tags as needed.
Make notes in addition to highlights and annotations in the relevant literature note in Obsidian.
Generate a note in Zotero (see screenshot below) that includes highlights and annotations - copy these to Obsidian.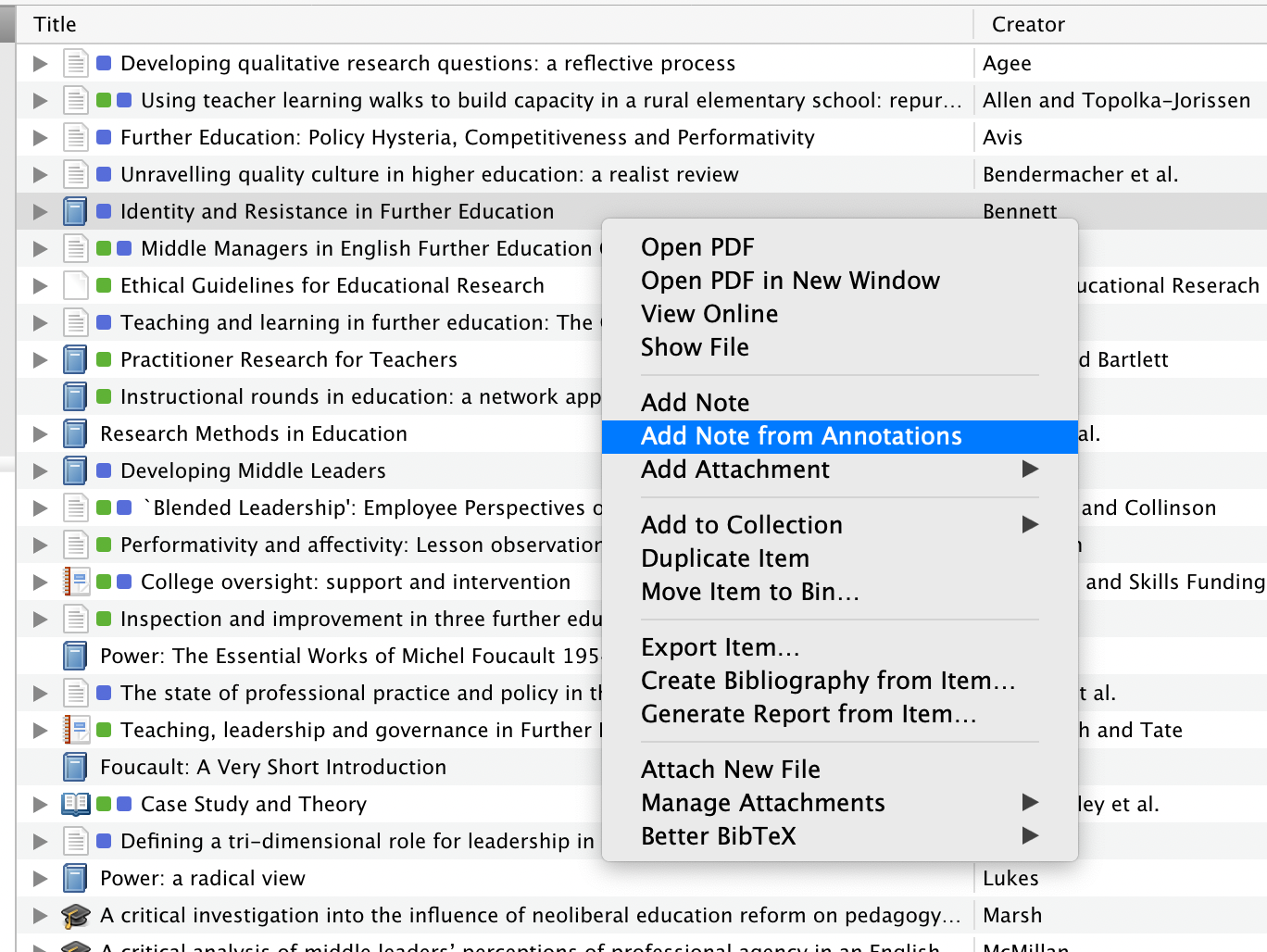 Final Thoughts
Choose a few tools that do what they do well and save you time - quality over quantity. Your toolkit should support and enhance your study.